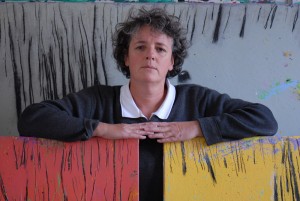 Claire Forgeot vit et travaille à Moulins dans l'Allier.




Née en 1956 à Bayonne (France).




Études (1974-1979) d'Arts Graphiques à l'AtelierPenninghen, Paris.




Depuis 1994 : Peinture, sculpture, recherches à l'intérieur du paysage-même.




Expose en France et à l'étranger.



Born in 1956 - Bayonne (France).
1974 - 1979 : Art studies in Atelier Met de Peninghen and ESAG school in Paris.
In 1994 : Full time painting and sculpture.
Lives and works in Moulins, Allier - France.
SOLO
2022 / Verstiges – Maignaut-Tauzia – France
2021-2022 / Pignada – Anglet – France
2018 / Orphée, le chant retrouvé – Les Caves Bertine – Moulins – France
2017 / Coupe claire, coupe sombre – Parc écologique d'Izadia – Anglet – France
2016 / Les pensées sauvages – Galerie Anne-Marie Marquette – Bordeaux – France
2015 / Galerie Olivier Nouvellet – Paris – France
2015 / Les pensées sauvages – Espace Saint-Sauveur – Issy-les-Moulineaux – France 
2014 / Paysages perdus – Saint-Pourçain sur Sioule – France
2012 / Dessins / peintures – L'Ancienne Pharmacie – Châteldon – France
2009 / Après le feu – Espace Saint-Marc – Souvigny – France
2006 / La vie des cailloux – Galerie Alépée-Ebert – Paris – France
2005 / Arborescences – Mairie du IV° – Paris – France
2004 / Espace Saint Cyprien – Toulouse – France
2003 / Galerie l'usage du monde – Saint-Valery-sur-Somme – France
1997 / Galerie L' Art à la Page – Paris – France
Groupe
2020 / Maison Galerie Laurence Pustetto – Libourne – France
2018 / 2019 – Musée Jenisch Vevey – Suisse
2014 / Château Lescombes – Eysines – France
2010 / Horizons, art et nature – Massif du Sancy – France
2009 / Œuvres en plein air – Château de Jehay – Belgique
2007 / 2° Biennale d'Art Contemporain sur le littoral – Anglet – France
2006 / MAC Paris – France
2006 / Patio en septembre – Anglet – France
2002 / Galerie Allaire-Aigret – Paris – France
1999 / Grosse Kunstausstellung – Düsseldorf – Germany